KaminoFORM S is a light-weight shaft (L90) with a wall thickness of 45 mm. The material is of excellent heat resistance. The versatile system is made of the natural material Vermiculite.
What is KaminoFORM S?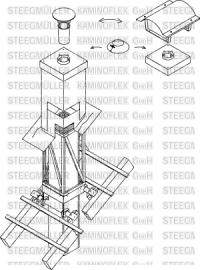 Perfectly matched to your requirements
A fantastic material
KaminoFORM S is a light-weight shaft (L90) with a wall thickness of 45 mm. The material is of excellent heat resistance. The versatile system is made of the natural material Vermiculite. This is a fascinating raw material. It belongs to the clay minerals and incorporates embedded crystal water. During the refinement process this water escapes and expands flat chips to a multitude of their original size. The finished product is ultra-light, incombustible, free from pollutants and heavy metals, fibre-free and temperature-resistant up to 1,100 °C.
A splendid idea
KaminoFORM S is a very flexible, modular, light-weight flue gas system. It is a universally appropriate solution for the casing of chimney liner pipes. The system is suitable for many applications in new construction and refurbishment. The design aims for a quick and easy assembly on site; the pre-fabricated shaft elements are simply fitted on top of one another and joined with a special adhesive. The scope of delivery of KaminoFORM S includes the shaft elements of one metre length, various fasteners and supports, fire protection kits for ceiling penetrations, angled elements up to 30° as well as plug connectors for the angled elements. The roof penetration is available as a complete assembly module and can easily and quickly be fitted into the roof structure. The pre-treated shaft elements are suitable for plastering, painting and wall-papering and therefore offer a multitude of finishing options.
Time is money
Does anything cost more time and require more patience than the assembly of heavy chimney elements that are difficult to handle and adjust? In many cases, expensive special solutions are required giving rise to extra costs. These costs are not always borne by the promoter.
Really universal
Our universal KaminoFORM S design concept provides for almost any individual application:
In combination with KaminoPLAN or KaminoPLAN AGL liner pipes, the system is suitable as air/flue gas chimney for room sealed systems with solid, gas or oil fuelling
For professionals
KaminoFORM S is an innovative system developed by experts for professionals who attach value to high quality materials and sophisticated components. For specialists who seek a state-of-the-art, reliable but also low-cost solution. In this respect, KaminoFORM S complements reasonably the high-grade product portfolio of STEEGMÜLLER Kaminoflex GmbH and its distribution partners.
More success
KaminoFORM S is not only easy to handle due to its low weight but also very easy to assemble. The quick and easy assembly involves time and cost savings that fitters can pass on to their customers. This allows them to offer attractive prices and successfully increase their presence on the market.
Without the slightest difficulty
The light-weight shaft is erected in dry construction. The pre-fabricated elements are rebated to facilitate joining. They are also available with a detachable front. This allows the easy fitting of individual openings. The material is easy to cut. The prepared elements are joined by placing them on top of each other and filling the joints with a special adhesive.
A clever system
A ready-for-installation module provides for an easy and particularly time-saving realisation of the roof penetration which otherwise involves much work. This module is fitted when the chimney protrudes by more than 1.25 m over the roof structure. It can be installed with any rafter spacing thanks to clever and time-saving technology.
On top of the roof KaminoFORM S can be fitted with a customizable chimney top flashing or a chimney cover combined with a flashing by customer.